To help a grieving friend starts with being present and joining God in comforting those going through difficult times. Hello everyone and welcome to episode no. 71, where today we discuss how to help a grieving friend.
Before we get into that, I have some listener feedback to share with you from episode 69, When our Kids Go Off to School for the First Time.
Hey John, I have enjoyed the past two weeks and happy for your new season.  This is a bright spot in the middle of the pandemic.  I am wondering if I will ever get out of England.  ~ Dorcas
Great podcast John!  I love your action step of writing a notecard to parents who are sending their kids to school for the first time.  Well done!  ~ Teri
On to today's episode.
We've all been there. A friend loses someone important to them through death. We care, but we don't know what to do. Today's episode is about what happened to me recently when a friend died, and what I did to help a grieving friend.
Hopefully it will give you some ideas for what you can do when you find yourself in the same situation. Because sooner or later, you will.
Our Friends, Martin and Suzanne
We met them at a missions conference a number of years ago. Martin was from Germany, Suzanne from Chicago. They met in China were they served as missionaries for 11 years.
When my book, THEM, came out in 2016, they heard about it and invited Janet and me to come down to their home in Chicago to talk about it. Janet couldn't make it. So I just went. Suzanne shared similarities in her background and mine. Both of us born to unwed mothers, both of us found Jesus in College through Campus Crusade. My time with her and Martin was just delightful.
They would come up to Milwaukee for our GermanFest. Martin would translate the beer-drinking songs into English for us.
We last saw them about a year ago when they came to our home. And they invited us to come down to Chicago to do some fun things there. As they were leaving we didn't know it was to be the last time we would ever see Suzanne.
Martin gave me permission to share his story in this podcast, trusting that it may help someone. I'll start by sharing the sequence and Martin's texts.
Saturday, August 8, 2020,  4:23pm.
Suzanne, the love of my life, heart and soul of our small family just went to be with Jesus. The machines keep her body going so she can donate some of her organs. Likely Monday evening! Thank you for everything!
The new shocked Janet and me. What do I do to help a grieving friend?
5 minutes later I texted back:
Oh no, Martin! I didn't know she was ill! How terrible. I will pray for you, Serena, and her mom. I will call you at some point in the near future after you have notified everyone. Hang in there brother.
A minute later Martin replied:
A sudden brain aneurysm on Thursday. So that was Saturday.
Monday August 10th, 5:24am Martin's text:
Good morning, Serena and I together with a friend from church will return to the hospital at 7:30 am as Suzanne will go to the OR at 8 am. Serena wrote a statement which will then be read by a staff member. Please remember us during this moment. Thank you,
Martin
Apparently Suzanne was declared brain dead early that Saturday. And they were keeping her alive until Monday to harvest her organs she was donating.
Later that Monday afternoon Martin sent me the viewing and funeral information to take place the coming Friday and Saturday. We couldn't go – out of town company that weekend.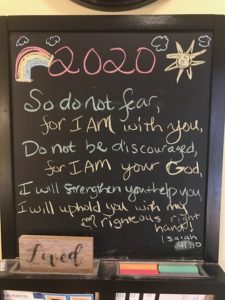 The next communication from Martin was 2 days later on Wednesday August 12th. It was a text with a photo of a blackboard Suzanne kept on the wall in their kitchen. She periodically wrote scripture verses to encourage her daughter Serena and Martin. The last one she ever wrote was from Isaiah 41:10.
Martin included a link to a Gofundme campaign that 5 people from his church took on to pay for the funeral, cemetery expenses, and something to replace Suzanne's lost income to help pay for Serena's college expenses next year.
He also shared the text of his daughter Serena's donor letter to the medical staff and the recipients of her mother's organs, her heart, lungs, liver and kidneys.
Imagine this 17-year-old girl who just lost her mother, writing the following to 4 unknown people who would be caring parts of her mother's body in their bodies for rest of their lives.
Serena's donor statement
Dear Medical Staff & Recipients,
When I think of Mom, I think of giving. There would never be a time where she would go empty-handed anywhere. It would be what can we bring or what would make them smile. Giving to others was what she was born to do ever since she was little. She gave to others all over the world not only with gifts but her precious love and time. It was always her wish to become a mom and give everything she had to that little human.
After a couple years of praying and hoping she had me. She told everyone I was a gift from God and her little miracle baby. She gave me the most wonderful life that anyone could imagine having. When things weren't perfect, she made it perfect when things weren't ok, she somehow made them ok. Since she gifted me this life I am gifting you all parts of her. She will carry on and live on in the lives of others. Even when she's no longer with us she's giving and will forever be.
So with that, be gentle and accept these gifts that she is giving because she is smiling with joy. May she forever be known as the most loving and giving person out there. Be gentle with these parts of her because these will be the best gifts she's ever given.
With lots of love, her daughter Serena.
Then on Friday, the public viewing was held, followed by the funeral on Saturday. Only 50 people were allowed in, all masked. It was live-streamed. I watched and saved the link and emailed it to a mutual friend in Germany who was very close to Suzanne.
A week later I texted Martin and asked if he'd like to talk. He couldn't at the time, but we set a time to chat a few days later, on August 24th in the evening.
We talked, or I should say, he talked for about an hour.
"I can't believe this has happened.
"I don't know if we have any money. Suzanne took care of all the finances here in America. I did the same thing when we lived in Germany. I don't know how things work here. Do we even have any money? I don't know.
"The only reason we moved to Chicago was to care for Suzanne's mother. We spent several years in Germany caring for my father before he died, and now it was going to be Suzanne's turn to care for her mother. How am I going to do this?
"Why would God allow this to happen?"
Martin later in the evening texted me with "Thank you for reaching out. Still remember our visit with you!!!"
About a week later Martin texted me on September 3rd, late in the evening:
"John I would like to come up to New Berlin someday and talk to you if you are available. I just don't know whether I have someone to stay with Jo for a couple of hours. Unless you would be able to come to Chicago and we could talk here at our place. Just wondered. Thinking about my life story and generational issues."
I went to bed with this on my mind. The next morning I woke up and told Janet about Martin's text. I said, "I think I need to go down there. It would so much easier for Martin."
Without hesitating, Janet agreed. So I texted Martin and we arranged a time for me to drive the 85 miles down to Chicago to meet and talk.
I didn't know what I would do, or what I would say, except to just be there with him and listen, and then take it from there. No plan, except to listen.
So my answer to the question and title of today's episode of how to help a grieving friend is this:
Just show up, be present, and listen.
In next week's episode I tell you what happened, and what I learned from my grieving friend that could help you the next time one of your friends goes through grief.
If you forget everything else, here's the one thing I hope you remember from today's episode.
God is at work in the lives of our friends, and there are times, especially the difficult times, when we have the privilege of being used by God to be part of that work. It pleases and honors him when we accept the invitation to be part of the story he is writing. It starts by just showing up and listening.
What you can do in response to today's show?
When someone you know is going through loss, be part of God's story of working in their life. Be open to the possibility that God may want you to join in the journey of grief your friend is going through. Ask God what role he wants you to play. He may not want your significant involvement, but he would at least like you to ask him.
As always, another thing you could do is let me and your fellow listeners know what resonated with you about today's episode.
By the way, did you know this podcast and our blog posts are sponsored by Caring for Others, a missionary care ministry?  It is through this organization that we first met Martin and Suzanne.
Closing
I hope your thinking was stimulated by today's show, to both reflect and to act. So that you will find the joy God intends for you through your relationships. Because after all, You Were Made for This.
Now for Our Relationship Quote of the Week
In my book THEM I wrote about our daughter's friend Kellie, who lost her child within hours of birth. One year after this tragic loss she posted this quote on Facebook by Ralph Fletcher from his book Fig Pudding,
"When someone you love dies, you get a big bowl of sadness put down in front of you, steaming hot. You can start eating now, or you can let it cool and eat it bit by bit later on. Either way, you end up eating the whole thing. There's really no way around it."
That's all for today. See you next week. Bye for now.